Commercial Painting Contractor San Francisco, CA
Including Marin, CA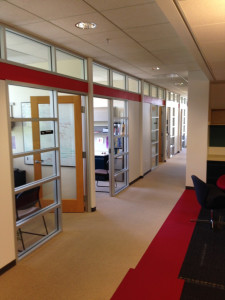 McCarthy Painting is a full-service commercial painting contractor servicing San Francisco, Palo Alto, Oakland, San Mateo, Redwood City, Menlo Park, Burlingame, South San Francisco and Marin. We specialize in painting commercial buildings, office complexes, exteriors, commercial repaints, banks, malls, and other commercial properties. We're commercial painters with the expertise to get jobs done on time and on budget. With crews dedicated to working nights and weekends, we get the job done with little impact to you, your staff, and your occupants. (We can also paint over the holidays)
You want your commercial building, business, mall, investment property, office space, retirement home, or other commercial building to stand out from the crowd. Nothing sets a business apart like a gleaming, professional paint job done right and on time by McCarthy Painting!
Commercial Exterior painting services also include:
Power Washing
Line Striping
Sealers
Elastomeric
Elastomer coatings are a popular choice for exterior concrete, masonry, and stucco walls. However, they can be tricky to apply correctly. If you want to avoid costly problems, have your building look its best, and protect it from the elements, you need a commercial painter that has the expertise and experience to do your job right.
Whiteboard Paint Commercial Services
We also offer specialty paints including whiteboard paint (also know as dry erase wall or dry erase board paint). These coverings are increasing in popularity around the country and will add an edge to your classroom, meeting room, or office space. We are one of the only painting contractors in the San Francisco, Palo Alto, Oakland, Redwood City, and surrounding area specializing in this type of coating.
Large whiteboards, whiteboard walls, and dry erase walls are perfect for calendars, planning large projects, and collaborating with your team without the constraints of a typical whiteboard. Engage students and bring your lectures to life with full-wall white boards! Forget the typical, small, wall calendar - plan your office calendar months in advance with a whiteboard wall of any size! We even work nights and weekends to ensure no disruption to your staff during business hours.
You name the coating and we can get it done!
McCarthy Painting is also one of the few painting companies in the country that specializes in hard to reach areas (see Steeplejack Services). We can paint high ceilings, vaulted foyers, auditoriums, and spaces that can be a challenge to access. We paint exterior spaces as well and can climb to those difficult to reach areas that can be such an eyesore on your commercial building.
No commercial painting job is too small (or large)!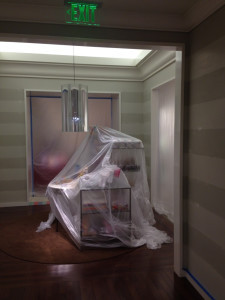 From basic jobs like painting one door, cleaning up graffiti, or creating entire whiteboard walls to large scale projects like painting malls, retirement homes and high rise buildings throughout the Bay area we can help you with all your painting needs!
If your commercial building in San Francisco, Marin, CA or the surrounding Bay Area needs a new coat of paint, call us today!
Interior painting for businesses often raises concerns about the environment and indoor air quality. Rest assured, we will use the best low- or no-VOC green paint for your project so your staff, employees and tenants can come back to a clean environment. Whether your property needs just an accent color in the lobby, a whiteboard wall for your meeting room or classroom, or a complete top-to-bottom paint, we can get your project done on-time with minimal impact to the staff and occupants.
Areas served for commercial painting: San Francisco (including South San Francisco), Marin, Palo Alto, Oakland, San Mateo, Redwood City, Menlo Park, Burlingame and nearby areas.