Choosing the Right Color for your Home: Part 2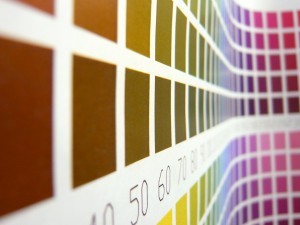 Here are four helpful tips to help you choose the perfect color scheme for your home's interior.
1. Get to know the color wheel.
Studying the color wheel will familiarize you with each color'sintensity and range of hues. Learning about how color scheme's work will also help you a pick a color or colors to compliment a room's décor. Color schemes are categorized into neutral, complementary and analagous groupings. A neutral scheme is scheme is made up of blacks, whites, greys and browns. A complementary color scheme is composed of primary (red, yellow, blue) and/or secondary colors (green, orange, purple) found on opposites sides of the color wheel. Analagous colors are located adjacent to each other on the color wheel, with a primary or secondary color acting as the dominat color.
2. Evaluate the room you are painting.
Both the artificial and natural lighting in a room can dramaticlly affect how a color appears on a wall. After you've decided on a few colors to choose from, it is best to paint a small section of the wall with each color to compare how they look in different lighting and at different times of the day. Also, be aware of the size of a room and wether you want it to appear big or small. A lighter color can make a smaller room feel more open and spacious while a darker color can make a large room feel cozier.
3. Don't be afraid to explore imaginative colors.
Despite what you may have heard, there are no strict color rules to follow when it comes to interior painting, only things to keep in mind. Don't be afraid to consider an imaginative color, pattern or color combination to revamp your home's decor.
4. Contact a color consultant.
A professional color consultant can help you select the perfect paint color, shade and hue, to fit your lifestyle and make your home warm and inviting. At McCarthy Painting, we recommend longtime Marin color consultant Megan Clark to customers seeking help selecting the right color for their home paint job.
Visit Megan's website and learn more about her services.